College of Office Management and Public Administration
Our college and its international activities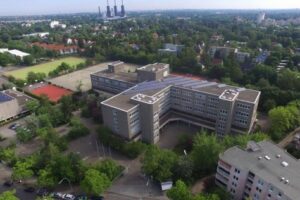 Welcome to Louise-Schroeder-Schule. We are a public VET (vocational education and training) college that offers academic courses for a range of occupational fields in the sectors of business management, public administration, and media and information services. We are the only VET college in Berlin that offers the academic part of the training for future clerks in public administration.
As all VET colleges, we are a "house with many options", from basic professional training and upper secondary classes to apprenticeship training within the German dual VET training.
About 2500 students from the age of 16 to usually about 30 (full- and part-time) are taught by about 140 teachers, trainers, and lecturers. They leave college as examined public administration clerks, office managers and specialists in media and information services or with their middle school or high school diplomas – with a special focus on economics and legal studies. Since 2015, the college also offers special welcoming classes for young foreign adults (mostly refugees) who have come to Germany and are too old for normal secondary school. They are trained in the German language and culture. The next step is then the integration into the educational system leading either directly to a profession or to further studies.
Erasmus+, trainee.IN.europe and other international activities
Our participation in international European programs dates back to 2002 where we first took part in Comenius and Leonardo-da-Vinci mobility projects and have continued to do so in the new generations of Erasmus+ KA1 mobility. Since then, more than 1500 students have taken part in short time visiting and exchange programs or mastered long-time KA1 internships of two to six months in public institutions, companies or libraires.
In 2015, our school received the National Agency Quality Charter in recognition of high-quality mobility projects (2016-2020), followed by the new quality accreditation in 2021-2024.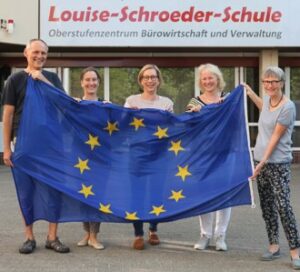 Since 2007, a permanent team of four teachers manage the Erasmus+ activities under the name of trainee.IN.europe. We help our students with the application process, are responsible for the necessary paperwork, supervise them during their internships and organize the Europass award ceremony each year.
We keep personal contact to our 60 partner institutions abroad and regularly acquire new partners to guarantee high quality placements for our students. Our students in the KA1 project have worked in almost every European country so far.
In 2019, we successfully took part at our first KA2 project, together with colleges form Finland, Spain, and the Netherlands.
Within the scope of the "entrepreneurship" project "Creative Minds – Service Designed Sustainable Startups" it was planned for the years 2020 and 2021 to design, produce and market one or even two products in two separate rounds. In each round, students from Finland, Spain, the Netherlands, and Germany form international teams.
A continuation of this and similar projects is being sought by the partners involved and the collaboration is to be continued.
As in every other educational institution, we also have many international activities outside the Erasmus+ program, such as language trips, trips to Brussels, Strasbourg, and Poland in the context of political education, ski trips, and group exchanges.
With our staff.IN.europe program, our colleagues use the possibilities of Erasmus+ staff mobility and take part in seminars, conferences, visit their students in partner institutions or do job shadowing. Their experiences and insights are a valuable element in our school life.
Please visit us – we are happy to welcome you!
We have always warmly welcomed foreign visitors to meet German staff apprentices and exchange ideas.
We offer a forum for international vocational training personnel and political multipliers to familiarize themselves with the benefits of the German dual education system. In addition to the professional exchange, the focus is always on personal meetings with trainees.
In 2019 alone, nearly 90 VET managers and teachers and about 40 students visited us.
During the Corona pandemic, of course, our international activities had to be reduced to the absolute minimum, and we are happy to finally continue all our activities.
Meet our Erasmus+ team
https://www.osz-louise-schroeder.de/projekte/erasmus/trainee-in-europe/
Our KA1 projects
https://www.osz-louise-schroeder.de/projekte/erasmus/trainee-in-europe/
Our KA2 projects
https://www.osz-louise-schroeder.de/projekte/erasmus/schulpartnerschaften/
Europass award ceremonies
https://www.osz-louise-schroeder.de/projekte/erasmus/europass-mobilitaet/